Posting a project and receiving auditions from voice actors is free! Here's how it works:
From your Voice123 client profile, select

'Post Project,'

enter the details, then click

submit.

The Voice123 algorithm will invite voice actors that match your requirements, and you can also manually invite voice actors via the search feature.

Voice actors will then submit their voice-over auditions.

Listen to the auditions, and be sure to like the ones that stand out.

Once you select the winning audition, book the voice actor to proceed with the final recording.
Follow this step-by-step guide to post your voice over project for free
Post a project following the step-by-step guide below.
The Voice123 algorithm will invite voice actors that match your requirements and you can also manually invite voice actors via the search feature.
Voice actors will then submit their auditions.
Listen to the auditions and remember to like your favorites.
Finally, book a voice actor to proceed with the final recording.
Follow this step-by-step guide to post your voice over project for free
Step 1: Voice Actor Requirements
Step 1: Voice Actor Requirements
Select the language/s you need your voice overs in
Our system will only invite voice actors who match this requirement.
If you need voice actors who can perform in multiple languages, turn on the toggle for 'must perform in all the languages selected'. Keep in mind that it will take a little longer to find voice actors that meet these language requirements.
Select the voice gender and age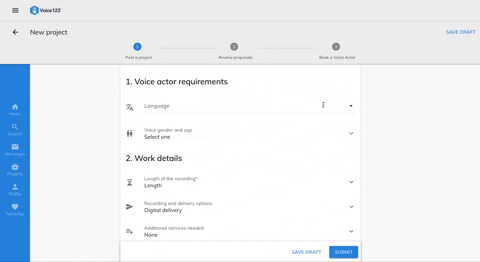 Step 2: Work Details
Input the recording length
If you're unsure, try to estimate. You can choose from seconds, minutes, hours, words, and pages. While you can also choose 'To be defined,' we recommend you give your chosen voice actors an idea of the duration to speed up the selection process.
Choose recording and delivery options
This is how you'll receive the auditions from voice actors. The most common and preferred option is digital delivery. You can learn more about the other delivery options available here.
Confirm if you need additional services
Many voice actors have complementary skills you can make use of for your project. For example, some offer translation, writing, or full production services. Select the additional options here.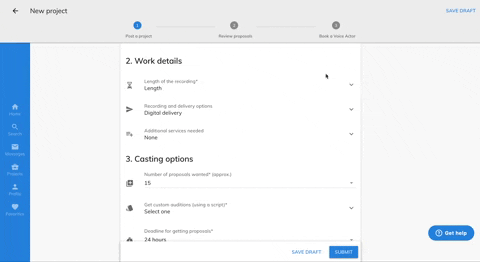 Step 3: Casting Options
Select the number of auditions you'd like to receive
This is an estimated number that the system will use to invite voice actors.
Would you like a custom audition?
Attach, copy/paste, or type in the custom script for your project. We recommend you only provide a section of your script for voice actors to read. While you're welcome to provide the script in its entirety, voice actors won't read more than a paragraph or so for an audition.
Alternatively, you can select 'send me related samples' and voice actors will then submit pre-recorded audio samples of their previous work.
Set a project deadline
You'll probably start receiving audition recordings within an hour or two - maybe sooner. Depending on your needs and production schedule, determine a cutoff time or date for receiving auditions. You can choose from hours or days. You can also extend or close your project at any time.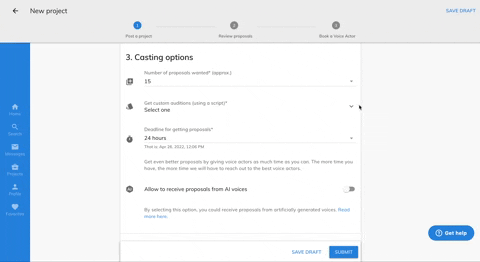 Step 4: Money Matters
Include a budget
We have four budget options that you can choose from:
Fixed: A set amount.

Up to: An amount that's flexible up to the maximum amount you set.
Looking for a quote: Voice actors will quote a price based on industry rates. Please include details such as where the recording will be used, how long it will be used there, and the length of the recording to help them provide as accurate a quote as possible.
Zero budget: If your project is non-profit and related to ongoing COVID-19 efforts, NGOs, students, or simply for practice, you can use this option.
What is the Voice123 Secure Payment option?
By selecting the secure payment option, you are letting voice actors know you're open to using Voice123's Secure Payment service to complete payment for this project. This is a safe and trusted option that allows Voice123 to act as a bond between you and the voice actor and protects both parties. Learn more about how it works and its benefits here.
Step 5: Project Details:
Add a project name
Choose a meaningful name to provide an overview of the project and help you keep track if you have multiple projects happening at the same time.
For example, "Female narrator, 30-second product commercial".
Write the project description
This is where you can include all the details about your project such as:
Additional terms
Delivery directions
Accent
Tone and style
Dos and Don'ts
For example:
VO Talent Info: We are interested in Adult female voices, speaking North American English. This is a product video, not a mainstage video, so no drama is needed. Please use your natural voice.
Direction for sample read: Professional and friendly. Aim for a relaxed tone, like you're having a conversation. Maybe smile during your read for an optimistic tone. Friendly is good, but "salesy" is bad. The script gets a bit technical, but the audience 'gets it' so going for a conversational vibe usually helps things sound sincere."
Confirm the usage of the recording
Try to give as much detail as possible here: How long will you be using the recording? Which platforms will it be shared on? What is the audience size?
For example:
We need a voiceover for a 30-second promo that will be used on our company website and social media for 3 months.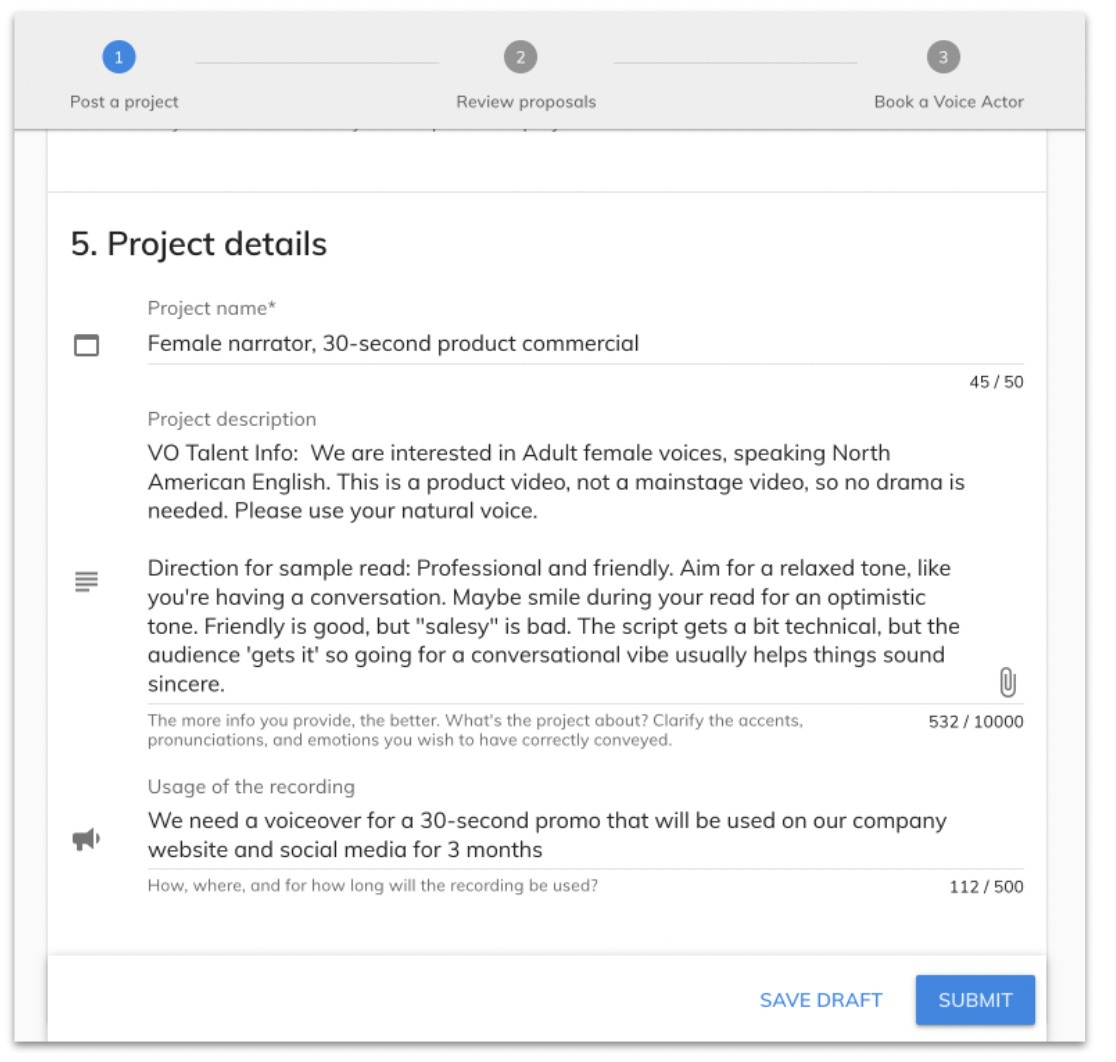 Click submit to enable the Voice123 algorithm and start receiving proposals!